The Turchin Companies is a dynamic organization of professionals, headed by 3rd generation designer/developer John Turchin, specializing in the fields of construction and development, design and consulting, luxury real estate sales and marketing, property management, alternative energies, fine art, interior design, retail and more. Our related companies include Turchin Properties, Mountain Realty, Eagle Electron Power Partners, LLC, The Great Train Robbery, and Gallery M just to name a few.
Learn about the Turchin Companies newest project near Asheville, NC – THE HORSE SHOE FARM!
The Turchin Companies started out in construction in South Florida in 1927 and over the following decades built a well-deserved reputation as one of the premiere development companies in the state. The Turchin Companies is credited with building most of the high rises in Miami Beach. "It is no exaggeration to say that Turchin (Robert) built much of post-war Miami Beach…numbering upward of 200 buildings" (The Miami Herald). Upon graduating from Florida International Univer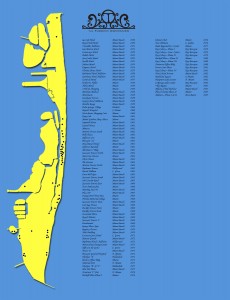 sity with a degree in construction management, John Turchin joined the family business following in his grandfather and father's footsteps. After managing many of the company's high rise projects of the late 70's and 80's, John eventually took over the company upon his father Robert's retirement. In the mid and late 90's, John led The Turchin Companies to play an integral role in restoring and re-building Miami Beach. In creating some of the most renowned estate homes and commercial buildings in South Florida, John Turchin combined his real estate talents, his flair for artistic construction, and his complete turnkey design elements and ideas, becoming known as an artist-in-action with an out-of-the-box business sense. Turchin grew a reputation as not just a creator of incredible properties, but more importantly as a creator of extraordinary lifestyles. John is proud to sit on the City of Miami Beach Design Review Board and has held an unlimited General Contractor's License in South Florida since 1979.
Since 1925, the Turchin family legacy has been the face of premier luxury living in South Florida. In keeping with the standard of luxury, The Turchin Group at One Sotheby's International Realty was created to leverage our local knowledge with the power of Sotheby's International Realty to give our incredible Turchin signature properties worldwide exposure. We also offer the unique insight of our real estate professionals into the Miami luxury home market to assist buyers and sellers in real estate transactions.
In the early 2000's, the company turned its attention to the Blue Ridge Mountains of North Carolina and began to assemble a 1,350 acre tract of land that would soon become The Lodges at Eagles Nest. Located in Banner Elk, North Carolina, a well-kept secret vacation spot of the Turchin family since 1970, the original concept for The Lodges at Eagles Nest was to be a world-renowned inspired Blue Ridge Mountain retreat, with elevations of up to 5,200 feet above sea level, where residents would be reminded of their childhood summer camp experiences, only with an unmatched sense of luxury and distinction. The Lodges at Eagles Nest was created to be the perfect mountain retreat for the whole family and a showcase of John Turchin's passion for creating art through architecture.
In addition to the Sotheby's International Realty connection in South Florida, The Turchin Companies is also aligned with the highest level of real estate marketing and exposure for our spectacular mountain properties. The Mountain Group at Premier Sotheby's International Realty was created to be a leader in luxury real estate throughout the North Carolina High Country. Headed by Derek Rowley, a real estate professional with over 13 years of experience in the luxury market from the mountains to the coast of North Carolina, The Mountain Group specializes in the most unique properties throughout the Blue Ridge Mountains.
In 2005, John brought Mountain Realty to The Turchin Companies family. Co-owned and managed by Derek Rowley, an accomplished entrepreneur with nearly 15 years of experience in luxury North Carolina mountain and coastal real estate, Mountain Realty is a full service real estate firm specializing in the best in luxury properties throughout the High Country.
An Earth-conscious entrepreneur, John believes strongly in the importance of renewable energy to protect our world's future. In 2011, John formed Eagle Electron Power Partners, LLC, a premiere source for renewable energy products and services.
In 2003, John and Susan Turchin opened The Great Train Robbery, a uniquely eclectic emporium of contemporary, timeless, and farmhouse furnishings, along with artwork, home décor, fine gifts, hand-made jewelry, vintage clothing and much more!
The Turchin family is renowned for their love of art. John Turchin's mother, Lillian Turchin, is an accomplished artist and instilled this love in each of her children. John Turchin channels this innate passion by creating art through architecture – bringing about magnificence through construction and design, with such fresh and alluring style that people will never forget visiting a Turchin-inspired property or business. The Turchin family have had a great impact on their beloved North Carolina High Country, where The Turchin Center for the Visual Arts at Appalachian State University, for which John currently sits on the advisory board, was made possible by a generous endowment by the Turchin family.
Throughout the years, the Turchin family has been very supportive of collegiate academics, arts, and athletics. Greer Field at Turchin Stadium at Tulane University opened in 2008 and was named for the late Robert Turchin, a World War II veteran and 1943 graduate of Tulane, and his wife, Lillian Turchin, who headed the drive to bring the current home of the Green Wave's baseball team to fruition.
Philanthropy runs deep with the Turchin family and they have proudly sponsored numerous local events in the communities where they live and work to demonstrate leadership, long-term commitment, and a genuine partnership with the cities, their leaders, and civic organizations.
Learn about the Turchin Companies newest project near Asheville, NC – THE HORSE SHOE FARM!